RIP Iz the Wiz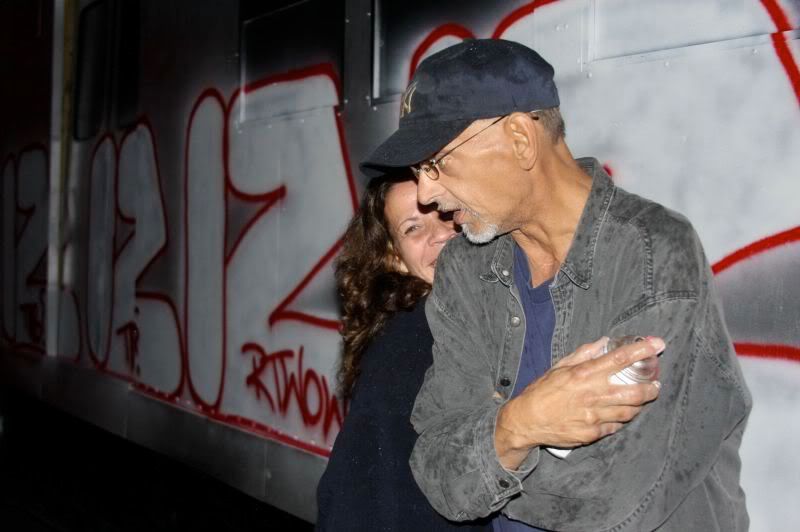 I dag kom den triste nyheten om at Mike Martin aka Iz the Wiz mistet livet som følge av et hjerteinfarkt. Han falt om da han var på besøk hos sin bror i Florida og helsen hans har sakte men sikkert blitt værre de siste årene. Iz kommer alltid til å være en legende og bli husket som en av de aller største graffitipionerene. Fra hans start tildig på 70-tallet har han holdt det ekte helt frem til i dag.
"I received some very sad news from Zephyr this morning. IZ the WIZ collapsed and died at his bother's home in Florida IZ was a sweet and generous man—very helpful to me back in the day. He will be fondly remembered and missed by his many fans and friends around the world." –Martha Cooper
"The passing of IZ (Mike) is a sad lost for our community and for us writers who wrote with him and also admired him as kids, IZ was iconic and a true All City King, a giant in the game. Much respect to his family and friends." -Mare139
RIP.
"I just received a phone call from Metal Man Ed who was a close friend of Mike Martin aka Iz The Wiz with tragic news of IZ's death. IZ died as a result of a heart attack in his home state of Florida.
For many of you that do not know, IZ TMB, was a subway god. From his beginnings in the early 70s he painted like there was no tomorrow and came up with one of the most iconic and recognized throw ups in subway writing history. It was by sheer will and determination that he became a true king of New York City. He was king of the lines and not only did throw ups but also whole cars and insides. While many people count IN TOP as the throw up king of all time, in actuality that title belongs to IZ who out painted and out lasted IN and mostly every other writer in the history on New York's movement.
His style was always wild and psychedic seemingly inspired by some far out LSD trip which took him to another universe. His whole cars reflected this and his walls and drawings also captured his other dimensions of existence. In an era where style mastery was strict and copy cats were plentiful IZ's style was avant-garde and loose, his blockbusters true works of beauty.
I was lucky enough to be friends with IZ. I meet him in the early 90s way after his subway reign but he was still into it. At the time he was one of us, the guys that were trying to keep graffiti on trains alive, and was painting with SAR, FUZZ, and CAV. They were hitting the lines out in Queens while the rest of us were putting in work elsewhere. Always a bomber, IZ also got into painting freight trains and wall productions in Queens. By the mid-90s he was responsible for making the Phun factory (now 5 pointz) a reality and a place where writers could paint legally with no stress from police. Because of him many writers came out of retirement and the old school get togethers started.
For the past 10 years IZ's health had been in a steady decline. He left NYC and moved around in order to be able to live affordably and where there was more accessible health care. We all saw a king deteriorating before our eyes but we also saw a man with a great spirit surviving. His illness seemed to come from as a result from all those years in the tunnels breathing toxic spray paint and track dust. The price he paid to be known is immense. He will not however be forgotten.
Iz was a humble and creative spirit. He was a truly giving and cool man. He was always down to help out whenever needed. He will truly be missed.
Mike – IZ may you rest in peace." – Ket
Hvil i fred!
Postet av Reyo